Now you can entertain your visitors uniquely by placing this on your table for easy access to several snacks you put in it.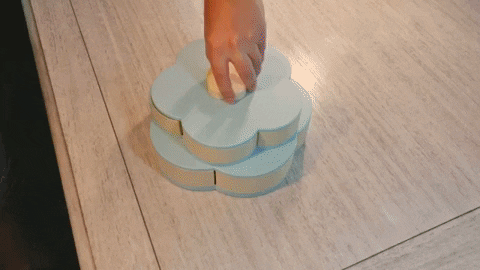 Every invited guest to your place can simply twist our snack box to access the snacks inside of it. It makes you look modem and classy. So whether you want a perfect snack buffet or just want an eye-catching centrepiece for your party table, this snack box is perfect for you!
MORE REASONS WHY YOU SHOULD BUY THIS SNACK BOX FOR YOUR HOME!
COOL STORAGE: Our snack box is expandable storage that you can put all your favourite munchies in one container. It can be dessert, fruits, candies, popcorns whatever you like you can all have a variety of it with this divided rotating box.
DECORATIVE: It just not serves as a container but as a décor as well as it has this cute flower design that definitely catches the eyes of your guests.
JEWELLERY BOX: it can serve as a jewellery box because of its space and once you twist and bloom you can easily see all your pieces of jewellery in one container.
GREAT FOR ENTERTAINING GUESTS: Our snack boxes are perfect for entertaining and gathering with friends and family. This snack box has 5-10 expandable compartments that are perfect for table snacks such as seeds, nuts, candies, chips, dry fruits and whatever you want to serve to your guests.
ORGANISING: Our snack boxes are easy to clean. And it can't only be used for snacks as you can also use it as a jewellery box, sewing box, school stuff, or any bits and bobs organizer. This box will surely be handy to you and your home
MORE PICTURES OF OUR SNACK BOX
HOW MUCH DOES IT COST?
BUY 1 BOX AT A DISCOUNTED PRICE OF
₦15,000 instead of ₦24,000.
OUR DISCOUNT EXPIRES BY 11:59 PM TODAY.
PLEASE READ OUR DELIVERY POLICY BELOW BEFORE YOU ORDER
Only interested people who already have their money should proceed to fill the order form.
If you know that you would be travelling while making this order. Don't Bother Ordering.
Lagos Delivery Takes 24 – 48 hours, while other States takes 2 – 4 working days.
👇 PLEASE FILL THE FORM BELOW TO PLACE AN ORDER 👇
GOT QUESTIONS…. CALL or WHATSAPP: 07066768772


Biggrowth Stores is a registered company based in Lagos. We sell useful and innovative products to thousands of customers in Nigeria. Customer satisfaction is our utmost priority.

We are located at Rauf Aregbesola Plaza, Lagos, Nigeria.